The Ezra Protocol is all about improving your health by reducing a fatty liver, but often I am asked 'what does the liver do?'  So here is a brief single page view of what the liver does.
The liver is in the upper right part of the abdomen.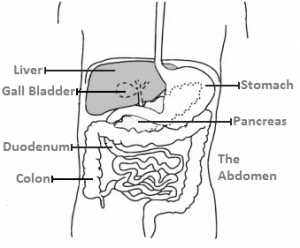 Storing glycogen (fuel for the body) which is made from sugars (fructose). When required, glycogen is broken down into glucose which is released into the bloodstream.  The better your liver, the better the fuel delivery will be.  The better you will feel.
Helping to remove or process alcohol, medicines, and toxins from the body.  It is vital that this function is not overloaded by excesses so that the liver can work in balance across all its functions.
Making proteins that are essential for blood to clot.
Helping to process fats and proteins from digested food.
Making bile which passes from the liver to the gut down the bile duct. Bile breaks down the fats in food so that they can be absorbed from the bowel.  An underperforming liver may not make enough bile to allow the fats to be broken down, leading to a breakdown in the vitamins absorbed from meals.